All of our circulators listed below are in-stock and can be ordered directly from our website.
Click on the model number link below to customize and order your hardware. All connector and port configurations are available.
Contact DiTom and we'll be happy to customize a product to your exact specifications.
Single junction Circulators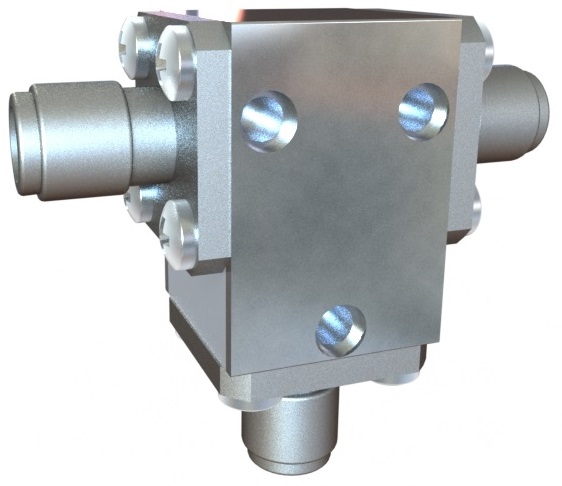 Dual junction Circulators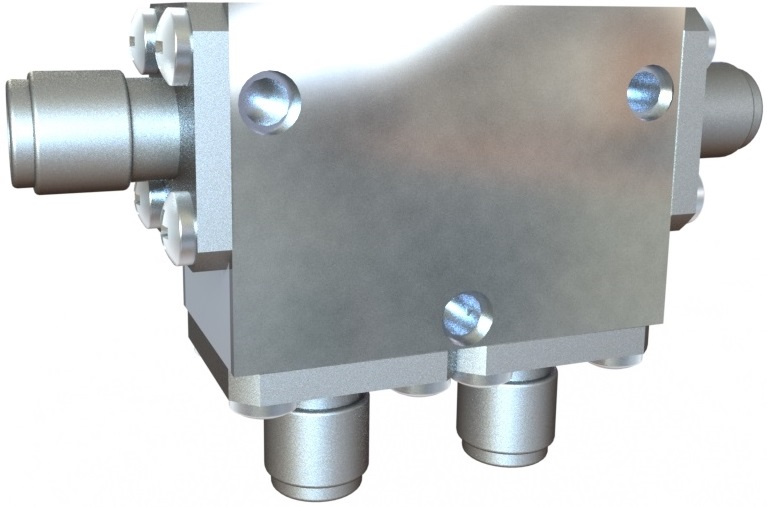 | Frequency (GHz) | Model Number | Isolation (dB) | Insertion Loss (dB) | VSWR | 1-24 | 25-99 | 100+ | Availability |
| --- | --- | --- | --- | --- | --- | --- | --- | --- |
| 0.40 - 0.50 | D3C0405 | 16 | 0.6 | 1.40:1 | $1,195.00 | $1,140.00 | $1,085.00 | In-Stock! |
| 0.50 - 0.55 | D3C0555 | 20 | 0.4 | 1.25:1 | $795.00 | $760.00 | $725.00 | In-Stock! |
| 0.50 - 0.55 | D4C0555 | 20 | 0.4 | 1.25:1 | $1,600.00 | $1,520.00 | $1,445.00 | 1-2 Weeks |
| 0.50 - 0.70 | D3C0507 | 17 | 0.6 | 1.35:1 | $895.00 | $855.00 | $815.00 | In-Stock! |
| 0.50 - 1.00 | D3C0501 | 14 | 1.0 | 1.50:1 | $3,495.00 | $3,325.00 | $3,160.00 | In-Stock! |
| 0.525 - 0.60 | D3C0560 | 20 | 0.4 | 1.25:1 | $795.00 | $760.00 | $725.00 | In-Stock! |
| 0.525 - 0.60 | D4C0560 | 20 | 0.4 | 1.25:1 | $1,600.00 | $1,520.00 | $1,445.00 | 1-2 Weeks |
| 0.60 - 0.70 | D3C0670 | 20 | 0.4 | 1.25:1 | $795.00 | $760.00 | $725.00 | In-Stock! |
| 0.60 - 0.70 | D4C0670 | 20 | 0.4 | 1.25:1 | $1,600.00 | $1,520.00 | $1,445.00 | 1-2 Weeks |
| 0.698 - 0.80 | D3C0780N | 20 | 0.4 | 1.25:1 | $695.00 | $665.00 | $635.00 | In-Stock! |
| 0.698 - 0.80 | D3C0780S | 20 | 0.4 | 1.25:1 | $695.00 | $665.00 | $635.00 | In-Stock! |
| 0.698 - 0.80 | D4C0780 | 20 | 0.4 | 1.25:1 | $1,400.00 | $1,330.00 | $1,265.00 | 1-2 Weeks |
| 0.698 - 1.00 | D3C0710N | 16 | 0.6 | 1.40:1 | $795.00 | $760.00 | $725.00 | In-Stock! |
| 0.698 - 1.00 | D3C0710S | 16 | 0.6 | 1.40:1 | $795.00 | $760.00 | $725.00 | In-Stock! |
| 0.80 - 0.90 | D3C0890 | 20 | 0.4 | 1.25:1 | $450.00 | $430.00 | $410.00 | In-Stock! |
| 0.80 - 0.90 | D4C0890 | 20 | 0.4 | 1.25:1 | $900.00 | $855.00 | $815.00 | 1-2 Weeks |
| 0.80 - 1.00 | D3C0810N | 20 | 0.4 | 1.25:1 | $495.00 | $475.00 | $455.00 | In-Stock! |
| 0.80 - 1.00 | D3C0810S | 20 | 0.4 | 1.25:1 | $495.00 | $475.00 | $455.00 | In-Stock! |
| 0.80 - 1.00 | D4C0810N | 20 | 0.4 | 1.25:1 | $1,000.00 | $950.00 | $905.00 | 1-2 Weeks |
| 0.80 - 1.00 | D4C0810S | 20 | 0.4 | 1.25:1 | $1,000.00 | $950.00 | $905.00 | 1-2 Weeks |
| 0.80 - 2.00 | D3C0802N | 14 | 1.0 | 1.50:1 | $1,100.00 | $1,045.00 | $995.00 | In-Stock! |
| 0.80 - 2.00 | D3C0802S | 14 | 1.0 | 1.50:1 | $1,100.00 | $1,045.00 | $995.00 | In-Stock! |
| 0.95 - 1.23 | D3C9525N | 20 | 0.4 | 1.25:1 | $595.00 | $570.00 | $545.00 | In-Stock! |
| 0.95 - 1.23 | D3C9525S | 20 | 0.4 | 1.25:1 | $595.00 | $570.00 | $545.00 | In-Stock! |
| 0.95 - 1.23 | D4C9525 | 20 | 0.4 | 1.25:1 | $1,200.00 | $1,140.00 | $1,085.00 | 1-2 Weeks |
| 0.95 - 1.70 | D3C9517N | 18 | 0.5 | 1.30:1 | $795.00 | $760.00 | $725.00 | In-Stock! |
| 0.95 - 1.70 | D3C9517S | 18 | 0.5 | 1.30:1 | $795.00 | $760.00 | $725.00 | In-Stock! |
| 0.95 - 2.15 | D3C9521N | 12 | 1.0 | 1.65:1 | $1,050.00 | $1,000.00 | $950.00 | In-Stock! |
| 0.95 - 2.15 | D3C9521S | 12 | 1.0 | 1.65:1 | $1,050.00 | $1,000.00 | $950.00 | In-Stock! |
| 1.00 - 2.00 | D3C0102N | 18 | 0.5 | 1.30:1 | $795.00 | $760.00 | $725.00 | In-Stock! |
| 1.00 - 2.00 | D3C0102S | 18 | 0.5 | 1.30:1 | $795.00 | $760.00 | $725.00 | In-Stock! |
| 1.20 - 1.40 | D3C0112 | 20 | 0.4 | 1.25:1 | $450.00 | $430.00 | $410.00 | In-Stock! |
| 1.20 - 1.40 | D4C0112 | 20 | 0.4 | 1.25:1 | $900.00 | $855.00 | $815.00 | 1-2 Weeks |
| 1.40 - 1.60 | D3C0116 | 20 | 0.4 | 1.25:1 | $450.00 | $430.00 | $410.00 | In-Stock! |
| 1.40 - 1.60 | D4C0116 | 20 | 0.4 | 1.25:1 | $900.00 | $855.00 | $815.00 | 1-2 Weeks |
| 1.50 - 2.50 | D3C1525 | 16 | 0.6 | 1.40:1 | $895.00 | $855.00 | $815.00 | In-Stock! |
| 1.50 - 3.00 | D3C1530 | 16 | 0.7 | 1.40:1 | $995.00 | $950.00 | $905.00 | In-Stock! |
| 1.60 - 1.80 | D3C0118 | 20 | 0.4 | 1.25:1 | $450.00 | $430.00 | $410.00 | In-Stock! |
| 1.60 - 1.80 | D4C0118 | 20 | 0.4 | 1.25:1 | $900.00 | $855.00 | $815.00 | 1-2 Weeks |
| 1.70 - 2.00 | D3C0120 | 20 | 0.4 | 1.25:1 | $450.00 | $430.00 | $410.00 | In-Stock! |
| 1.70 - 2.00 | D3C1720N | 20 | 0.4 | 1.25:1 | $450.00 | $430.00 | $410.00 | In-Stock! |
| 1.70 - 2.00 | D3C1720S | 20 | 0.4 | 1.25:1 | $450.00 | $430.00 | $410.00 | In-Stock! |
| 1.70 - 2.00 | D4C0120 | 20 | 0.4 | 1.25:1 | $900.00 | $855.00 | $815.00 | 1-2 Weeks |
| 1.70 - 2.00 | D4C1720N | 20 | 0.4 | 1.25:1 | $900.00 | $855.00 | $815.00 | 1-2 Weeks |
| 1.70 - 2.00 | D4C1720S | 20 | 0.4 | 1.25:1 | $900.00 | $855.00 | $815.00 | 1-2 Weeks |
| 1.70 - 2.20 | D3C1722N | 20 | 0.4 | 1.25:1 | $495.00 | $475.00 | $455.00 | In-Stock! |
| 1.70 - 2.20 | D3C1722S | 20 | 0.4 | 1.25:1 | $495.00 | $475.00 | $455.00 | In-Stock! |
| 1.70 - 2.20 | D4C1722N | 20 | 0.4 | 1.25:1 | $1,000.00 | $950.00 | $905.00 | 1-2 Weeks |
| 1.70 - 2.20 | D4C1722S | 20 | 0.4 | 1.25:1 | $1,000.00 | $950.00 | $905.00 | 1-2 Weeks |
| 1.70 - 2.50 | D3C1725 | 17 | 0.6 | 1.35:1 | $495.00 | $475.00 | $455.00 | In-Stock! |
| 1.70 - 2.70 | D3C1727 | 20 | 0.5 | 1.25:1 | $795.00 | $760.00 | $725.00 | In-Stock! |
| 2.00 - 2.30 | D3C0223 | 20 | 0.4 | 1.25:1 | $450.00 | $430.00 | $410.00 | In-Stock! |
| 2.00 - 2.30 | D4C0223 | 20 | 0.4 | 1.25:1 | $900.00 | $855.00 | $815.00 | 1-2 Weeks |
| 2.00 - 4.00 | D3C2040 | 18 | 0.5 | 1.30:1 | $450.00 | $430.00 | $410.00 | In-Stock! |
| 2.00 - 4.00 | D4C2040 | 18 | 0.5 | 1.30:1 | $900.00 | $855.00 | $815.00 | 1-2 Weeks |
| 2.00 - 6.00 | D3C2060 | 14 | 0.8 | 1.50:1 | $895.00 | $855.00 | $815.00 | In-Stock! |
| 2.00 - 6.00 | D4C2060 | 14 | 0.8 | 1.50:1 | $1,800.00 | $1,710.00 | $1,625.00 | 1-2 Weeks |
| 2.00 - 8.00 | D3C2080 | 9 | 1.75 | 2.10:1 | $995.00 | $950.00 | $905.00 | In-Stock! |
| 2.30 - 2.70 | D3C2327N | 20 | 0.4 | 1.25:1 | $495.00 | $475.00 | $455.00 | In-Stock! |
| 2.30 - 2.70 | D3C2327S | 20 | 0.4 | 1.25:1 | $495.00 | $475.00 | $455.00 | In-Stock! |
| 2.30 - 2.70 | D4C2327 | 20 | 0.4 | 1.25:1 | $1,000.00 | $950.00 | $905.00 | 1-2 Weeks |
| 2.60 - 5.20 | D3C2652 | 18 | 0.6 | 1.30:1 | $450.00 | $430.00 | $410.00 | In-Stock! |
| 2.60 - 5.20 | D4C2652 | 18 | 0.5 | 1.30:1 | $900.00 | $855.00 | $815.00 | 1-2 Weeks |
| 2.60 - 5.30 | DMC2652 | 15 | 1.0 | 1.50:1 | $595.00 | $570.00 | $545.00 | In-Stock! |
| 3.00 - 6.00 | D3C3060 | 18 | 0.5 | 1.30:1 | $450.00 | $430.00 | $410.00 | In-Stock! |
| 3.00 - 6.00 | D4C3060 | 18 | 0.5 | 1.30:1 | $900.00 | $855.00 | $815.00 | 1-2 Weeks |
| 3.00 - 9.00 | D3C3090 | 14 | 1.0 | 1.50:1 | $795.00 | $760.00 | $725.00 | In-Stock! |
| 3.40 - 4.20 | D3C3442 | 20 | 0.4 | 1.25:1 | $450.00 | $430.00 | $410.00 | In-Stock! |
| 3.50 - 7.00 | D3C3570 | 17 | 0.5 | 1.35:1 | $450.00 | $430.00 | $410.00 | In-Stock! |
| 3.50 - 7.00 | D4C3570 | 17 | 0.5 | 1.35:1 | $900.00 | $855.00 | $815.00 | 1-2 Weeks |
| 3.70 - 4.20 | D3C3742 | 23 | 0.3 | 1.15:1 | $450.00 | $430.00 | $410.00 | In-Stock! |
| 3.70 - 4.20 | D4C3742 | 23 | 0.3 | 1.15:1 | $900.00 | $855.00 | $815.00 | 1-2 Weeks |
| 3.70 - 8.30 | D3C3783 | 17 | 0.6 | 1.35:1 | $450.00 | $430.00 | $410.00 | In-Stock! |
| 3.70 - 8.30 | D4C3783 | 17 | 0.6 | 1.35:1 | $900.00 | $855.00 | $815.00 | 1-2 Weeks |
| 4.00 - 12.00 | D3C4012 | 14 | 1.0 | 1.50:1 | $895.00 | $855.00 | $815.00 | In-Stock! |
| 4.00 - 8.00 | D3C4080 | 20 | 0.4 | 1.25:1 | $450.00 | $430.00 | $410.00 | In-Stock! |
| 4.00 - 8.00 | D4C4080 | 20 | 0.4 | 1.25:1 | $900.00 | $855.00 | $815.00 | 1-2 Weeks |
| 4.40 - 5.00 | D3C4450 | 23 | 0.3 | 1.15:1 | $450.00 | $430.00 | $410.00 | In-Stock! |
| 4.40 - 5.00 | D4C4450 | 23 | 0.3 | 1.15:1 | $450.00 | $430.00 | $410.00 | 1-2 Weeks |
| 5.00 - 10.70 | DMC5011 | 15 | 1.0 | 1.45:1 | $595.00 | $570.00 | $545.00 | In-Stock! |
| 5.00 - 15.00 | D3C5015 | 14 | 1.0 | 1.50:1 | $695.00 | $665.00 | $635.00 | In-Stock! |
| 5.40 - 5.90 | D3C5459 | 23 | 0.3 | 1.15:1 | $450.00 | $430.00 | $410.00 | In-Stock! |
| 5.40 - 5.90 | D4C5459 | 23 | 0.3 | 1.15:1 | $900.00 | $855.00 | $815.00 | 1-2 Weeks |
| 5.70 - 7.10 | D3C5771 | 18 | 0.5 | 1.30:1 | $450.00 | $430.00 | $410.00 | In-Stock! |
| 5.80 - 14.50 | D3C5814 | 15 | 0.8 | 1.30:1 | $595.00 | $570.00 | $545.00 | In-Stock! |
| 5.90 - 6.40 | D3C5964 | 23 | 0.3 | 1.15:1 | $450.00 | $430.00 | $410.00 | In-Stock! |
| 5.90 - 6.40 | D4C5964 | 23 | 0.3 | 1.15:1 | $900.00 | $855.00 | $815.00 | 1-2 Weeks |
| 6.00 - 12.40 | D3C6012 | 17 | 0.6 | 1.35:1 | $450.00 | $430.00 | $410.00 | In-Stock! |
| 6.00 - 12.40 | D4C6012 | 17 | 0.6 | 1.35:1 | $900.00 | $855.00 | $815.00 | 1-2 Weeks |
| 6.00 - 18.00 | DMC6018 | 14 | 1.0 | 1.50:1 | $1,050.00 | $1,000.00 | $950.00 | In-Stock! |
| 7.00 - 11.00 | D3C7011 | 20 | 0.5 | 1.25:1 | $450.00 | $430.00 | $410.00 | In-Stock! |
| 7.00 - 11.00 | D4C7011 | 20 | 1.0 | 1.25:1 | $900.00 | $855.00 | $815.00 | 1-2 Weeks |
| 7.00 - 12.40 | D3C7012 | 18 | 0.5 | 1.30:1 | $450.00 | $430.00 | $410.00 | In-Stock! |
| 7.00 - 12.40 | D4C7012 | 18 | 0.5 | 1.30:1 | $900.00 | $855.00 | $815.00 | 1-2 Weeks |
| 7.00 - 18.00 | D3C7018 | 15 | 1.0 | 1.50:1 | $650.00 | $620.00 | $590.00 | In-Stock! |
| 7.00 - 18.00 | D4C7018 | 17 | 1.0 | 1.50:1 | $1,300.00 | $1,235.00 | $1,175.00 | 1-2 Weeks |
| 7.50 - 10.00 | D3C7510 | 20 | 0.5 | 1.25:1 | $450.00 | $430.00 | $410.00 | In-Stock! |
| 7.50 - 10.00 | D4C7510 | 20 | 0.5 | 1.25:1 | $900.00 | $855.00 | $815.00 | 1-2 Weeks |
| 7.70 - 8.40 | D3C7784 | 23 | 0.3 | 1.20:1 | $450.00 | $430.00 | $410.00 | In-Stock! |
| 7.70 - 8.40 | D4C7784 | 23 | 0.3 | 1.20:1 | $900.00 | $855.00 | $815.00 | 1-2 Weeks |
| 8.00 - 12.40 | D3C8012 | 20 | 0.5 | 1.25:1 | $450.00 | $430.00 | $410.00 | In-Stock! |
| 8.00 - 12.40 | D4C8012 | 20 | 0.5 | 1.25:1 | $900.00 | $855.00 | $815.00 | 1-2 Weeks |
| 8.00 - 16.00 | D3C8016 | 17 | 0.6 | 1.35:1 | $450.00 | $430.00 | $410.00 | In-Stock! |
| 8.00 - 16.00 | D4C8016 | 17 | 0.6 | 1.35:1 | $900.00 | $855.00 | $815.00 | 1-2 Weeks |
| 8.00 - 18.00 | D3C8018 | 16 | 0.8 | 1.45:1 | $495.00 | $475.00 | $455.00 | In-Stock! |
| 8.00 - 18.00 | D4C8018 | 16 | 0.8 | 1.45:1 | $1,000.00 | $950.00 | $905.00 | 1-2 Weeks |
| 8.00 - 20.00 | D3C8020 | 15 | 1.0 | 1.45:1 | $575.00 | $550.00 | $525.00 | In-Stock! |
| 8.00 - 20.00 | D4C8020 | 15 | 1.0 | 1.45:1 | $1,150.00 | $1,095.00 | $1,045.00 | 1-2 Weeks |
| 8.50 - 9.60 | D3C8596 | 23 | 0.3 | 1.20:1 | $450.00 | $430.00 | $410.00 | In-Stock! |
| 8.50 - 9.60 | D4C8596 | 23 | 0.3 | 1.20:1 | $900.00 | $855.00 | $815.00 | 1-2 Weeks |
| 9.20 - 10.50 | D3C9211 | 23 | 0.3 | 1.20:1 | $450.00 | $430.00 | $410.00 | In-Stock! |
| 9.20 - 10.50 | D4C9211 | 23 | 0.3 | 1.20:1 | $900.00 | $855.00 | $815.00 | 1-2 Weeks |
| 10.00 - 20.00 | D3C1020 | 16 | 0.7 | 1.40:1 | $495.00 | $475.00 | $455.00 | In-Stock! |
| 10.00 - 20.00 | D4C1020 | 16 | 0.7 | 1.40:1 | $1,000.00 | $950.00 | $905.00 | 1-2 Weeks |
| 10.70 - 11.70 | D3C1112 | 23 | 0.3 | 1.20:1 | $450.00 | $430.00 | $410.00 | In-Stock! |
| 10.70 - 11.70 | D4C1112 | 23 | 0.3 | 1.20:1 | $900.00 | $855.00 | $815.00 | 1-2 Weeks |
| 10.70 - 12.75 | D3C1012 | 23 | 0.3 | 1.20:1 | $450.00 | $430.00 | $410.00 | In-Stock! |
| 10.70 - 14.80 | D3C1014 | 23 | 0.3 | 1.20:1 | $495.00 | $475.00 | $455.00 | In-Stock! |
| 11.70 - 12.70 | D3C1213 | 23 | 0.3 | 1.20:1 | $450.00 | $430.00 | $410.00 | In-Stock! |
| 11.70 - 12.70 | D4C1213 | 23 | 0.3 | 1.20:1 | $900.00 | $855.00 | $815.00 | 1-2 Weeks |
| 12.00 - 18.00 | D3C1218 | 20 | 0.5 | 1.25:1 | $450.00 | $430.00 | $410.00 | In-Stock! |
| 12.00 - 18.00 | D4C1218 | 20 | 0.5 | 1.25:1 | $900.00 | $855.00 | $815.00 | 1-2 Weeks |
| 12.75 - 14.50 | D3C1214 | 23 | 0.3 | 1.20:1 | $450.00 | $430.00 | $410.00 | In-Stock! |
| 14.00 - 15.00 | D3C1415 | 23 | 0.3 | 1.20:1 | $450.00 | $430.00 | $410.00 | In-Stock! |
| 14.00 - 15.00 | D4C1415 | 23 | 0.3 | 1.20:1 | $900.00 | $855.00 | $815.00 | 1-2 Weeks |
| 16.00 - 19.00 | D3C1619 | 20 | 0.5 | 1.25:1 | $495.00 | $475.00 | $455.00 | In-Stock! |
| 17.00 - 20.00 | D3C1720 | 22 | 0.4 | 1.20:1 | $495.00 | $475.00 | $455.00 | In-Stock! |
| 17.00 - 20.00 | D4C1720 | 22 | 0.4 | 1.20:1 | $1,000.00 | $950.00 | $905.00 | 1-2 Weeks |
| 17.30 - 22.00 | D3C1822 | 20 | 0.5 | 1.25:1 | $495.00 | $475.00 | $455.00 | In-Stock! |
| 18.00 - 26.50 | D3C1826 | 18 | 0.8 | 1.40:1 | $600.00 | $570.00 | $545.00 | In-Stock! |
| 18.00 - 26.50 | D3C1826K | 18 | 0.8 | 1.40:1 | $725.00 | $690.00 | $660.00 | In-Stock! |
| 18.00 - 26.50 | D4C1826 | 18 | 0.8 | 1.40:1 | $1,200.00 | $1,140.00 | $1,085.00 | 1-2 Weeks |
| 18.00 - 26.50 | D4C1826K | 18 | 0.8 | 1.40:1 | $1,450.00 | $1,380.00 | $1,315.00 | 1-2 Weeks |
| 18.00 - 40.00 | D3C1840 | 9 | 2.1 | 2.10:1 | $1,600.00 | $1,520.00 | $1,445.00 | In-Stock! |
| 18.00 - 40.00 | D4C1840 | 9 | 2.1 | 2.10:1 | $3,200.00 | $3,040.00 | $2,890.00 | 1-2 Weeks |
| 19.00 - 22.00 | D3C1922 | 22 | 0.4 | 1.20:1 | $495.00 | $475.00 | $455.00 | In-Stock! |
| 19.00 - 22.00 | D4C1922 | 22 | 0.4 | 1.20:1 | $1,000.00 | $950.00 | $905.00 | 1-2 Weeks |
| 20.00 - 21.50 | D3C2021 | 22 | 0.4 | 1.20:1 | $495.00 | $475.00 | $455.00 | In-Stock! |
| 20.00 - 21.50 | D4C2021 | 22 | 0.4 | 1.20:1 | $1,000.00 | $950.00 | $905.00 | 1-2 Weeks |
| 20.00 - 23.00 | D3C2023 | 22 | 0.4 | 1.20:1 | $495.00 | $475.00 | $455.00 | In-Stock! |
| 20.00 - 23.00 | D4C2023 | 22 | 0.4 | 1.20:1 | $1,000.00 | $950.00 | $905.00 | 1-2 Weeks |
| 20.00 - 30.00 | D3C2030 | 16 | 0.7 | 1.40:1 | $1,200.00 | $1,140.00 | $1,085.00 | In-Stock! |
| 20.00 - 30.00 | D4C2030 | 16 | 0.7 | 1.40:1 | $2,400.00 | $2,280.00 | $2,170.00 | 1-2 Weeks |
| 20.00 - 40.00 | D3C2004 | 10 | 2.0 | 2.00:1 | $1,400.00 | $1,330.00 | $1,265.00 | In-Stock! |
| 20.00 - 40.00 | D4C2004 | 10 | 2.0 | 2.00:1 | $2,800.00 | $2,660.00 | $2,530.00 | 1-2 Weeks |
| 24.00 - 28.00 | D3C2428 | 20 | 0.5 | 1.25:1 | $1,000.00 | $950.00 | $905.00 | In-Stock! |
| 26.50 - 40.00 | D3C2640 | 14 | 1.0 | 1.50:1 | $1,200.00 | $1,140.00 | $1,085.00 | In-Stock! |
| 26.50 - 40.00 | D3C2640Q | 14 | 1.0 | 1.50:1 | $1,500.00 | $1,425.00 | $1,355.00 | In-Stock! |
| 26.50 - 40.00 | D4C2640 | 14 | 1.0 | 1.50:1 | $2,400.00 | $2,280.00 | $2,170.00 | 1-2 Weeks |
| 27.00 - 31.00 | D3C2731 | 20 | 0.6 | 1.25:1 | $1,000.00 | $950.00 | $905.00 | In-Stock! |
| 27.00 - 31.00 | D3C2731Q | 20 | 0.6 | 1.25:1 | $1,300.00 | $1,235.00 | $1,175.00 | In-Stock! |
| 31.00 - 33.00 | D3C3133 | 20 | 0.6 | 1.25:1 | $1,000.00 | $950.00 | $905.00 | In-Stock! |
| 33.00 - 37.00 | D3C3337 | 18 | 0.7 | 1.25:1 | $1,100.00 | $1,045.00 | $995.00 | In-Stock! |
| 37.00 - 40.00 | D3C3740 | 18 | 0.7 | 1.35:1 | $1,100.00 | $1,045.00 | $995.00 | In-Stock! |
| 37.00 - 40.00 | D3C3740Q | 18 | 0.7 | 1.25:1 | $1,400.00 | $1,330.00 | $1,265.00 | In-Stock! |
| 37.00 - 43.00 | D3C3743 | 14 | 1.2 | 1.35:1 | $1,400.00 | $1,330.00 | $1,265.00 | In-Stock! |
| 37.00 - 43.00 | D3C3743Q | 14 | 1.2 | 1.35:1 | $1,700.00 | $1,615.00 | $1,535.00 | In-Stock! |
| 38.00 - 41.00 | D3C3841 | 17 | 1.0 | 1.30:1 | $1,300.00 | $1,235.00 | $1,175.00 | In-Stock! |
| 38.00 - 41.00 | D3C3841Q | 17 | 1.0 | 1.30:1 | $1,600.00 | $1,520.00 | $1,445.00 | In-Stock! |
| 40.00 - 42.00 | D3C4042 | 20 | 0.8 | 1.25:1 | $1,300.00 | $1,235.00 | $1,175.00 | In-Stock! |
| 40.00 - 42.00 | D3C4042Q | 20 | 0.8 | 1.25:1 | $1,600.00 | $1,520.00 | $1,445.00 | In-Stock! |
| 40.00 - 43.50 | D3C4043 | 18 | 1.2 | 1.50:1 | $1,300.00 | $1,235.00 | $1,175.00 | In-Stock! |
| 40.00 - 43.50 | D3C4043Q | 18 | 1.2 | 1.50:1 | $1,600.00 | $1,520.00 | $1,445.00 | In-Stock! |